Get Huge Discounts, Custom Gear, Private FB Group Of OVER 3500 Ambos, Earn Cash Rewards, Exclusive Sales, & Be Part Of The Inner Circle Plus So Much More!
JOIN THE MOST AMAZINGLY FUN & INSPIRING GROUP!
25 APPLICANTS CHOSEN PER DAY!!
Why is it the best? Well it's pretty simple:

Get $150 worth of LiveSore Gear!

Your Own 15% OFF Discount Code

Earn CASH REWARDS for Sharing

Join 5000+ other Ambos Worldwide

Over 3500+ Private FB Ambo Group

There's NO Sales Requirements

NO Social Media Requirements
THIS IS AN APPLICATION TO BECOME A LIVESORE AMBASSADOR WHICH WE CONSIDER TO BE A VERY PRESTIGIOUS OPPORTUNITY. WE WANT ALL LEVELS OF FITNESS & BODY TYPES, OUR COMMUNITY IS ONE OF EMPOWERMENT, MOTIVATION, INSPIRATION, & A TON OF CRAZY FUN. PLEASE BE GENUINE ABOUT THIS APPLICATION, AS WE TAKE APPLICANTS VERY SERIOUSLY!
A SNEAK PEEK AT THE BEST AMBO BUNDLES IN FITNESS!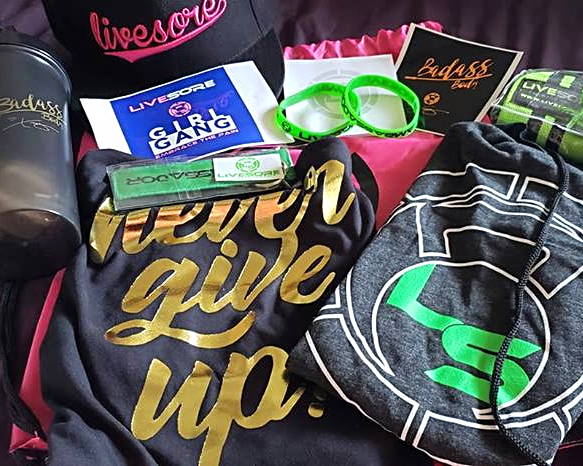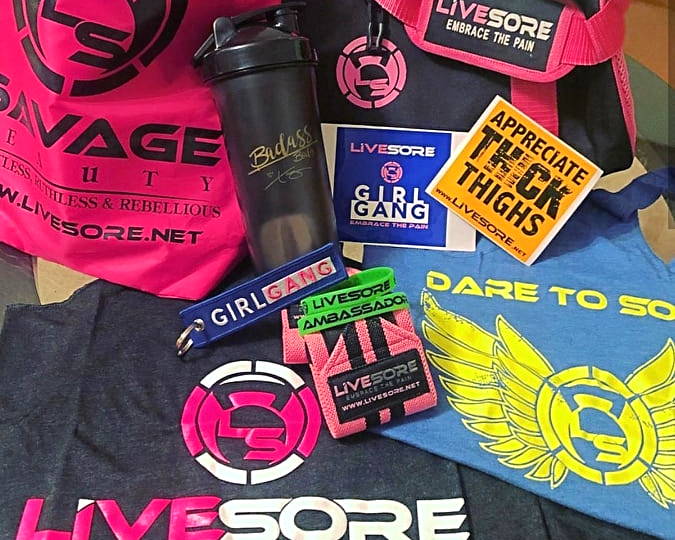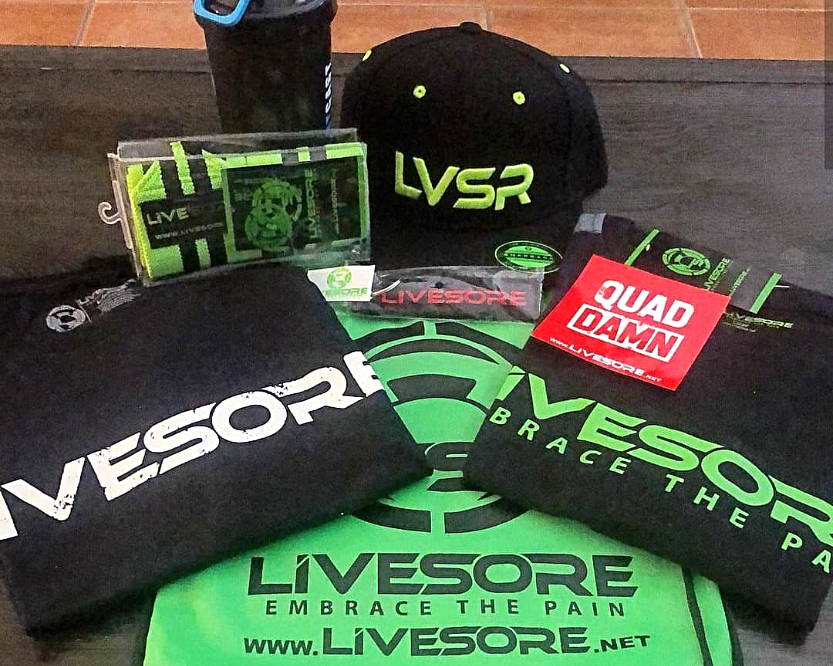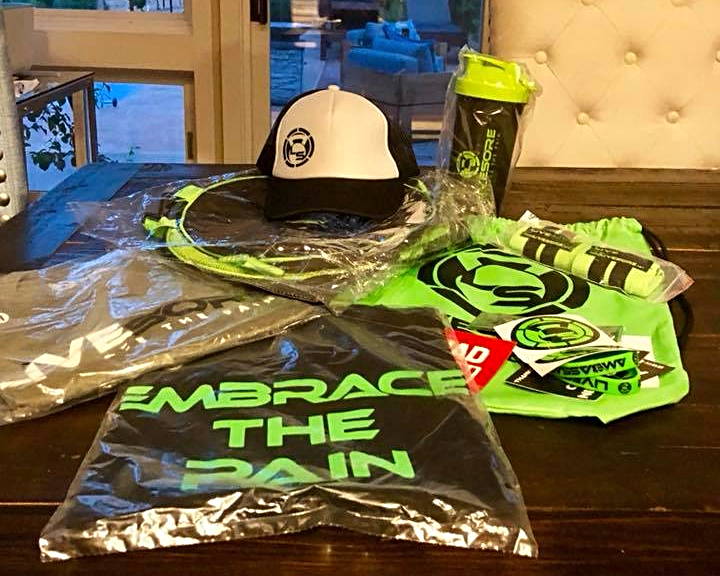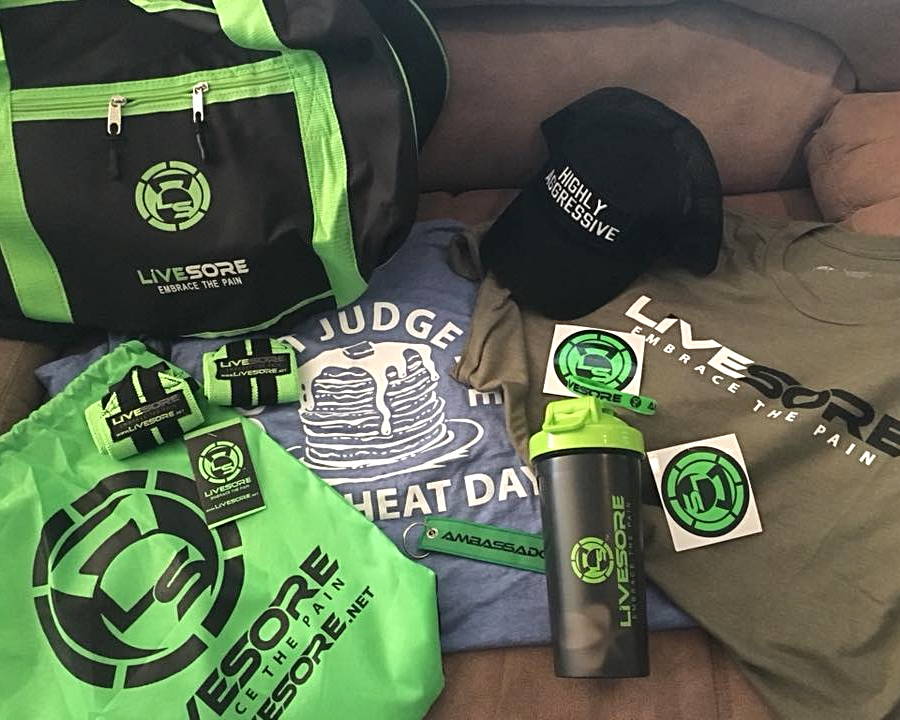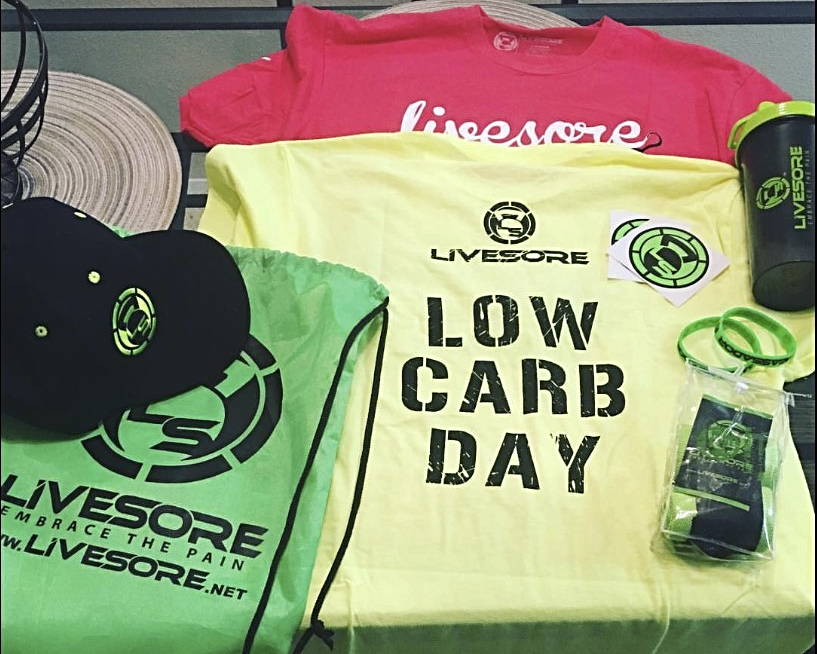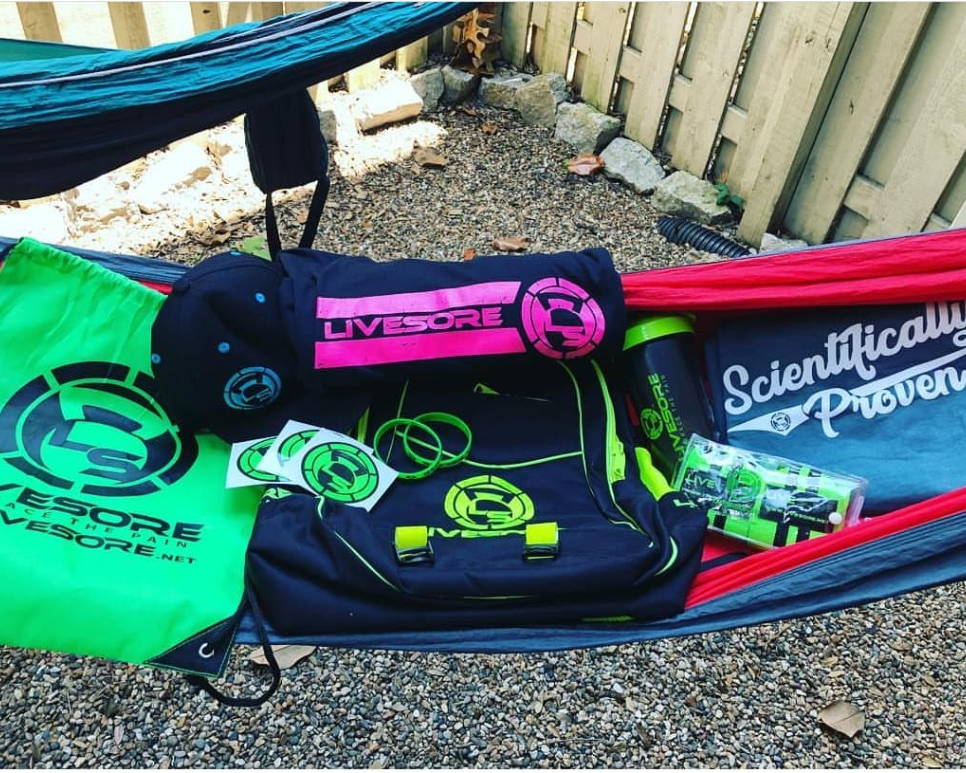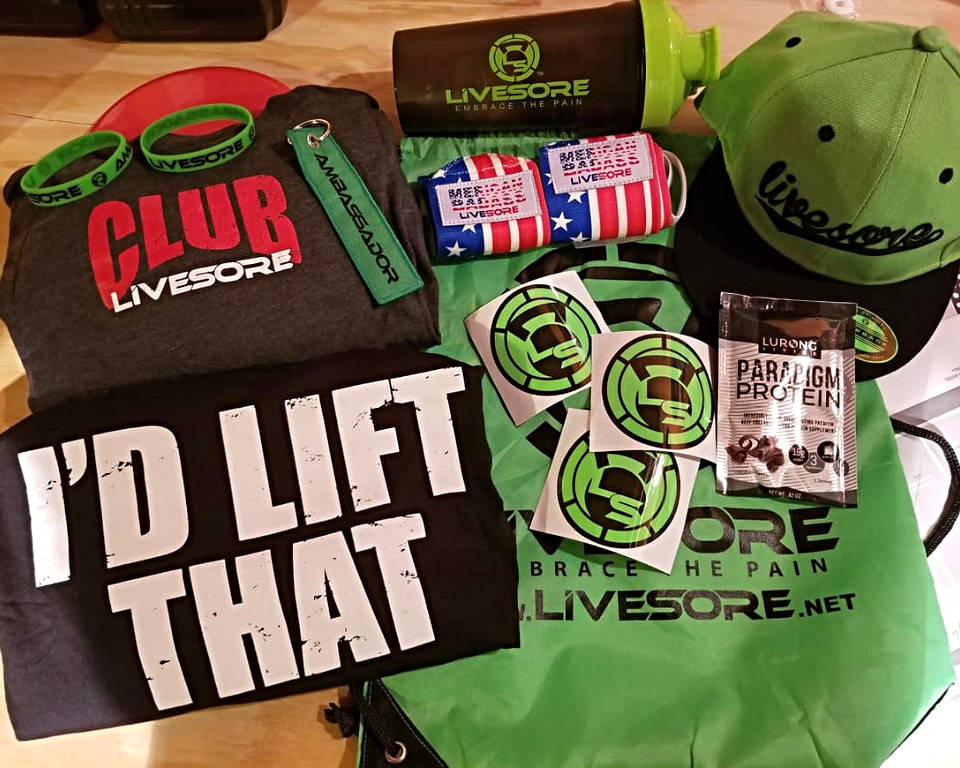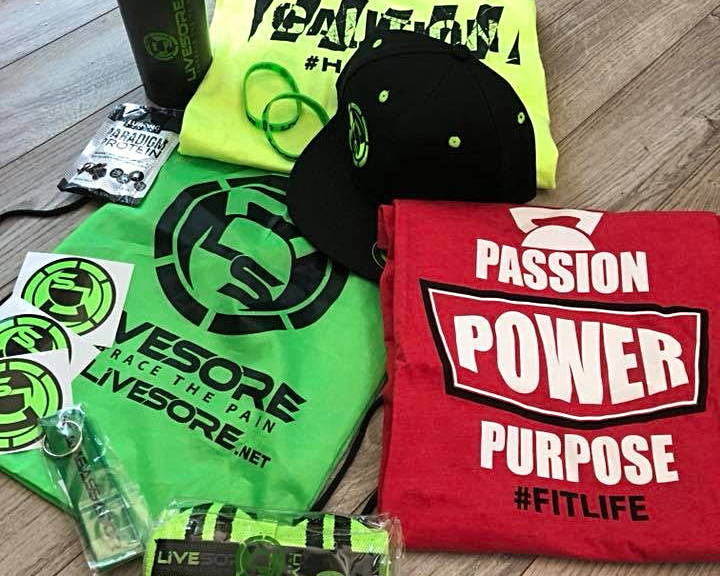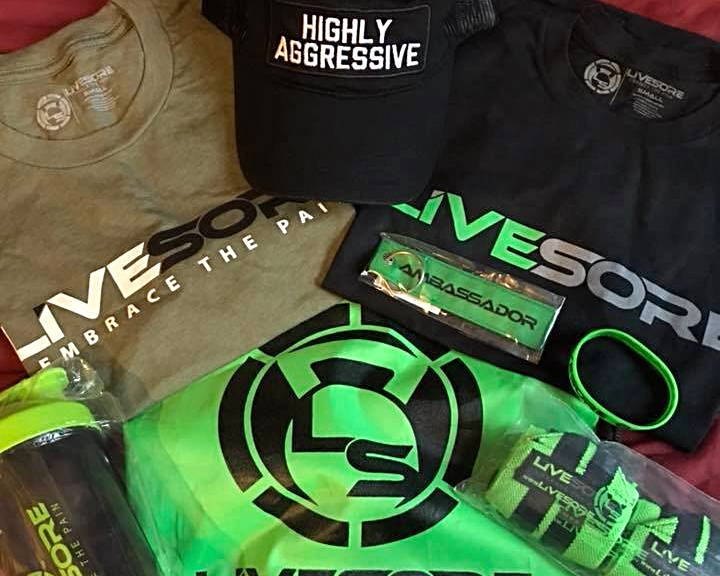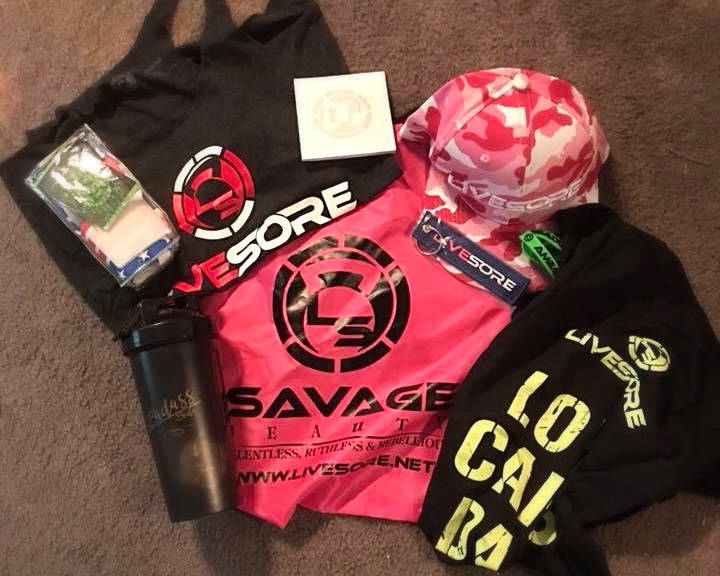 WHAT DO YOU GET AS A LIVESORE AMBASSADOR?
Check out the Amazing Ambassador Starter Bundle valued at over $150 in retail goodies, plus see all of the amazing gifts & perks you'll receive!
The Legendary LiveSore Ambassador Bundle is what started the whole thing! Obviously, this deal alone is well worth the cost, but not only do you get all this amazing LiveSore gear but you'll also get your own 15% store coupon, CASH REWARDS, the invitation to join the private Ambassador Only FB Group, Exclusive sales & gear, and so much more.
2 High Quality Famous LS Shirts/ Tops($50 VALUE)
Custom LiveSore Hat($20 VALUE)
Wrist Wraps($20 VALUE)
Drawstring Bag($15 VALUE)
Shaker Bottle($15 VALUE)
LiveSore Ambassador Keychain($10 VALUE)
LiveSore Ambassador Bracelet($10 VALUE)
LiveSore Sticker Pack($10 VALUE)
FREE SHIPPING ON YOUR STARTER PACKAGE!
BY FAR THE ABSOLUTE BEST DEAL IN FITNESS, ALL FOR JUST $39!!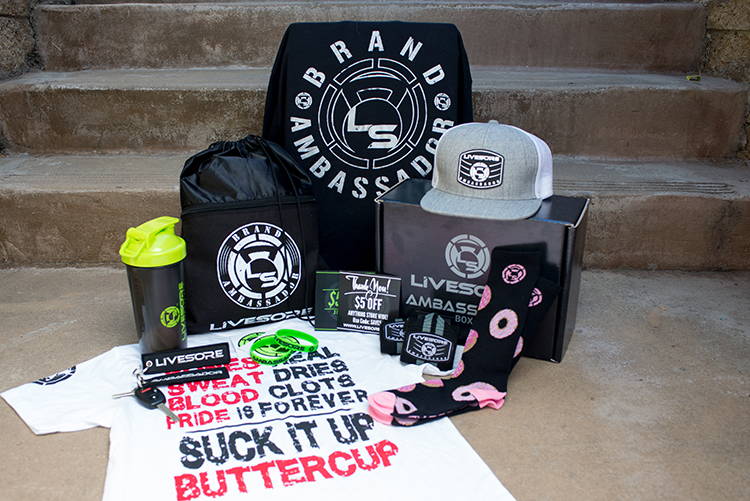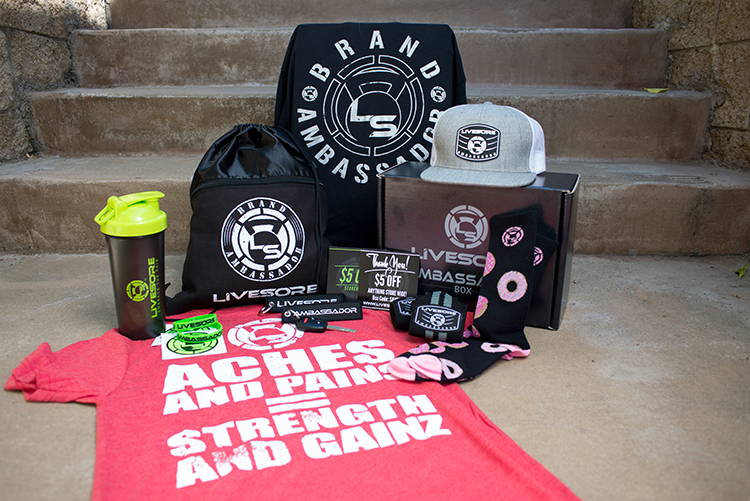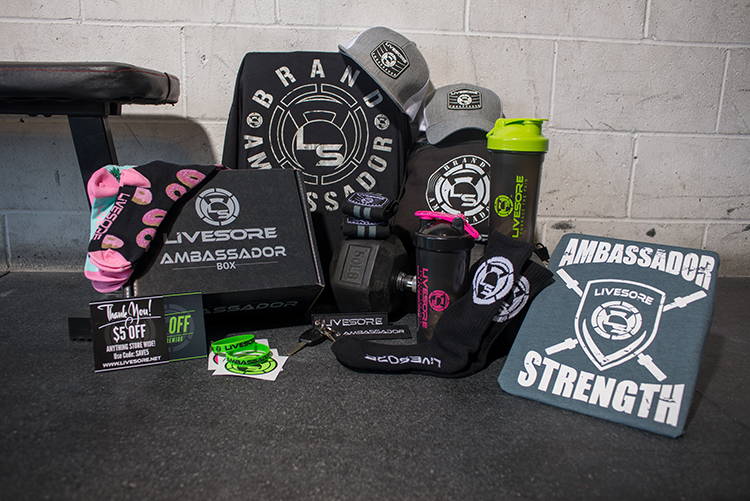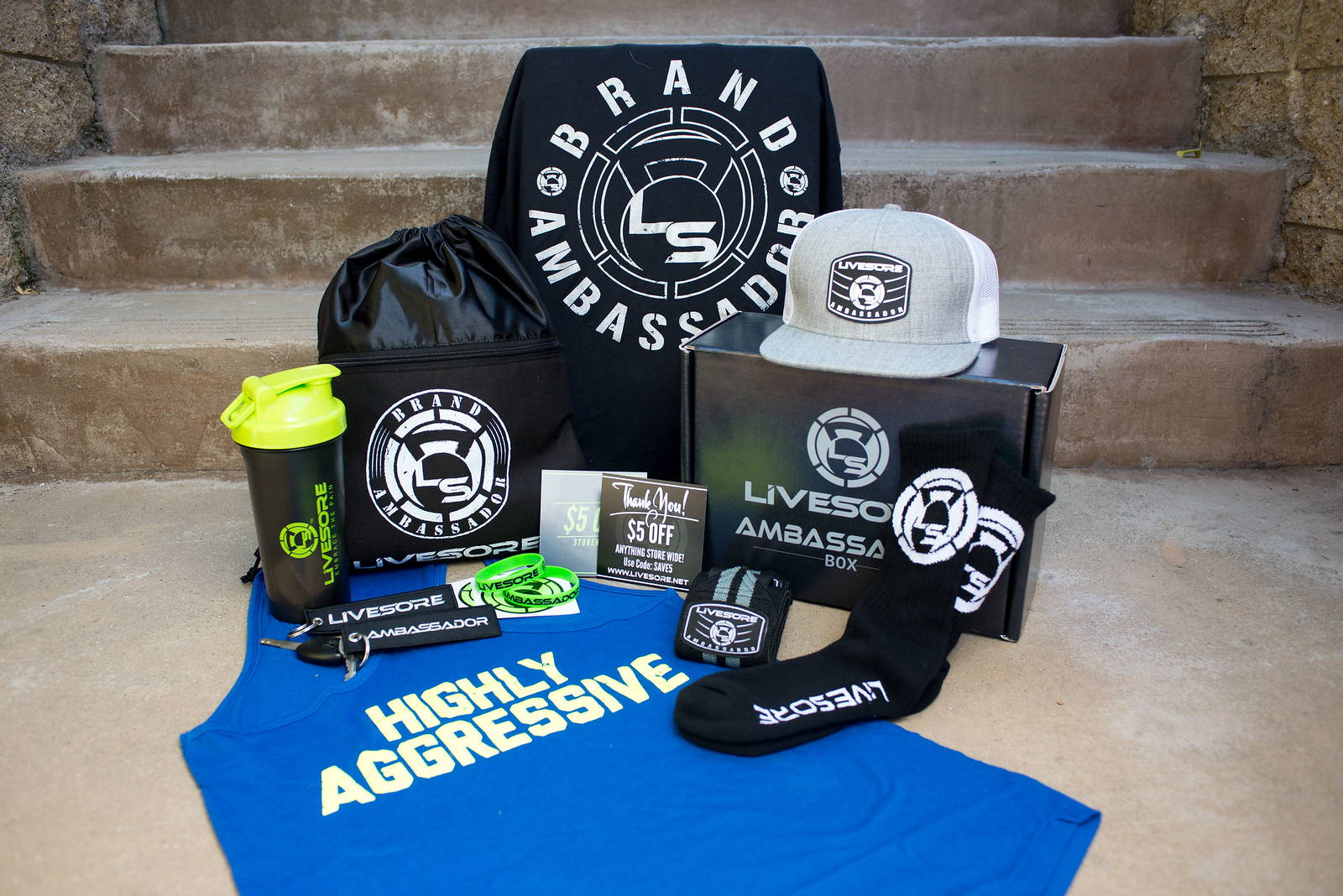 What are we looking for? One of the biggest questions we get is, "What are your requirements to be an Ambassador?" It's honestly very simple, but we want to be sure it's a great fit!
JUST LOVE THE BRAND
YOU DO NOT HAVE TO SELL ( this isn't a job)
You must be POSITIVEand represent the Brand in a upbeat positive manner (who doesn't love a happy person?). Just wear the gear with pride & talk it up when asked!
A small nominal Membership fee which rewards you with the 15% OFF Code, Private FB Group of 3000+other Ambos, & the ability to earn Cash Back Rewards!!
You don't have to worry about posting to social a certain number of times nor selling anything!
There are no shopping or spending requirementsonce you've received your AmboStarter Bundle.
That's basically it, we just ask that our ambassadors LOVE the brand, talk it up, be a positive Member, endorse the message, have fun, and Embrace The Pain!
We're In this together and as a LiveSore Ambassador, you literally become part of the Inner-Circle and we value your ideas and feedback! Some of our best designs were fine tuned because of our Ambos!
Become part of something "Bigger" than you & surround yourself with other like-minded fitness friends, it will change your life!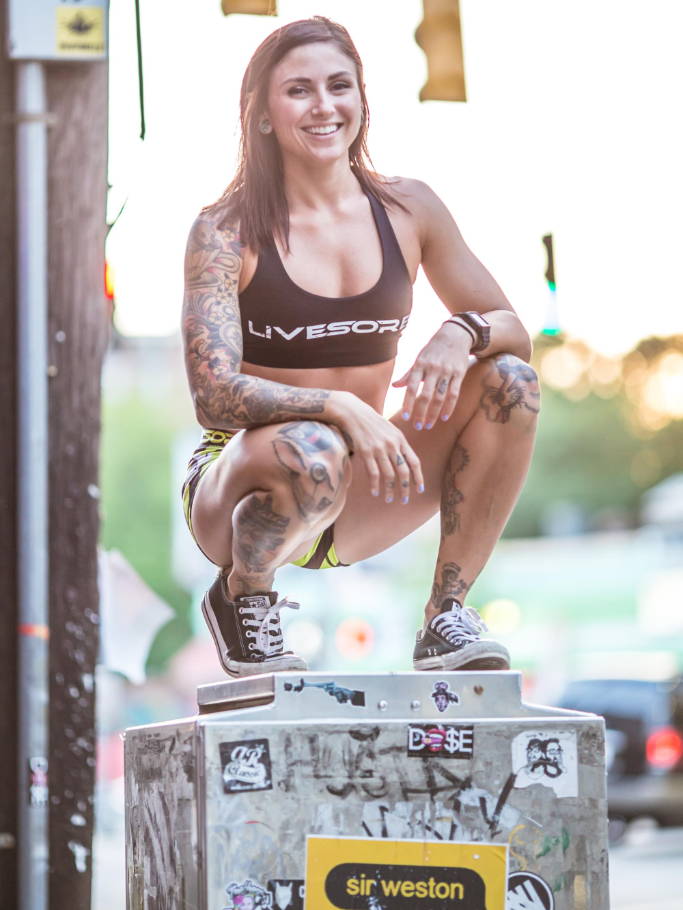 LISTEN TO WHY OUR AMBASSADORS LOVE US!
Being a LiveSore ambassador is more than just representing a clothing brand, it's about being a part of a family!

Beth Bisotti
LiveSore Ambassador
The LiveSore community is always supportive and positive, allowing you to push yourself further in life and in the gym!

Tyrone Logan
LiveSore Ambassador
When I signed up it was so much more than the clothing. LiveSore is a family that has helped me push myself harder in the gym!

Clareyce Free
LiveSore Ambassador
BE PART OF THE EXCITEMENT THAT IS LIVESORE NATION!
FIND OUT WHY OVER 30,000 OTHERS HAVE APPLIED!

This is an application to become a LiveSore Ambassador which we consider to be a very prestigious opportunity. We want ALL levels of fitness and body types, our community is one of empowerment, motivation, inspiration, and a ton of crazy fun. Please be genuine about being part of our Ambo Program as we take applicants very seriously.

The ambassador program is about family. It's filled with people who are looking out for you, checking in on you and congradulating you. Join the fun!
Anthony "Shorty Truss
LiveSore Ambassador
What is an Ambassador and why should you apply?
We developed an Industry Leading Ambassador Program to give our friends the best damn group of like-minded people in 1 amazing group to help come together to motivate, empower, contribute, and simply have fun.
We simply ask that you be an amazingly positive contributor and talk up the Brand and rock the apparel. There is no "selling" or "requirements" beyond the initial application process.  
In return, you get the most incredible "Ambassador Starter Bundle" valued at well over $150 in retail cost, a special 15% Off coupon code, the ability to literally earn Cash Back, Exclusive Ambo Only Gear, Secret Sales, the Private FB Group of over 2800 other Ambos, and much much more!
There is most definitely something uniquely special about our Ambassador Program! At nearly 3 years old, we've had over 30,000 applicants from around the world and have brought on over 5000 LiveSore Ambassadors on as Official LiveSore Ambassadors!
BE PART OF SOMETHING UNIQUE, SOMETHING "BIGGER" THAN JUST YOURSELF, PART OF THE INNER-CIRCLE, PART OF A COMMUNITY THAT LIFTS YOU UP WITH POSITIVITY AND FUN ON A DAILY BASIS!
Is There An Annual Fee?
We have no "annual fee". Upon signing up you have options as to the length of the Membership you would like to choose & that Membership Fee entitles you to your 15% discount, Cash Rewards Program, and the private FB Ambo Group. We recommend the "Lifetime" option as it's the best deal & most beneficial, should you choose the other options you'd get an email reminder of your Membership expiration and options continuation!
When will I receive my discount code?
Upon acceptance into our Ambassador Program, you're 15% Discount Code will be automatically assigned to your email address and your welcome email will include the discount code, which is sent immediately!
Can others apply?
They sure can, and we love sharing the Brand and Ambassador Program with more awesome individuals. However, we cannot guarantee approval for anyone. Each applicant is reviewed individually.
Do I have to sell anything?
Not at all, all we ask is that you wear and represent the Brand! No sales required!!
How will I know if I'm accepted?
Simple, once you've completed your application on this page and then selected your Starter Package, We will inform you the same day!
Required to spend/shop more?
No, not at all. Once you've been accepted into the Ambassador Program and selected your Ambassador Starter Package, we do not have any shopping or spending requirements beyond that.
Will these make me more awesome?
You're already pretty damn awesome which is why you're here, but its been scientifically proven that our Ambasassador Program will enhance all your badassery!
Am I required to do things like "share" on social media?
No, we have no requirements for anything like that. However, we do want people who are proud of the Brand, represent it well, and love it. For doign so we will offer you cash rewards!
Is my payment information secure?
Our store is hosted on Shopify Inc. They provide us with the online e-commerce platform that allows us to sell our products and services to you. Your data is stored through Shopify's data storage, databases and the general Shopify application. They store your data on a secure server behind a firewall.